A great way to add living space to your home is a rear or side single storey extension. Add valuable living space and improve your home's layout by planning, designing and budgeting for the best single storey extension possible. You can enhance the rooms you already have by opening up kitchen/dining rooms and creating a whole new family space.  Toilet and utility spaces can allow better comfort and get the noisy washing machine out the living areas.
Our Bristol based architectural design professionals will talk to you in depth about your requirements, timescale and budgets. We will work with you to see what works best for your family's needs and budget, advising of any potential pitfalls we may see. Once we have a clear understanding of your requirements along with your ideas we will work together to get the best design options for you.
Firstly, we will look into your practical needs such as access, integration and impact on existing spaces. Then we will look into the size and layout of the new extension to see what works best both looks wise and practically. Its very easy to end up with dark or unusable space's so we make sure the layout is right before moving onto the next step. Once the size and layout have been confirmed we will explore different roof options to see what works best with your new extension and with your budget in mind. There are many options to discuss such as tiled mono pitch, dual or ridged, hipped or flat roofs
The next phase is the all-important finishing touches and wow factors. We keep up to date with trends and new material finishes, plus cheaper alternatives that have similar effects.
In our gallery you can find some of our built projects in Bristol, Bath, Keynsham, Emersons Green, Stoke Gifford and surround areas.
Most single storey extensions can be built under permitted development, see guide below. We shall give you the necessary advice and where necessary make permitted development enquiries.
Here at CK Architectural Bristol we shall ensure we know exactly what is legally required to be in place before you begin any building. Our clear planning application drawings present your design in the correct scales, site maps, etc to validate the application. We will check the design against the planning guidance such as over development, impact on street scene, right of light, over shadowing, loss of amenity and outlook, massing/dominance, loss of privacy, etc.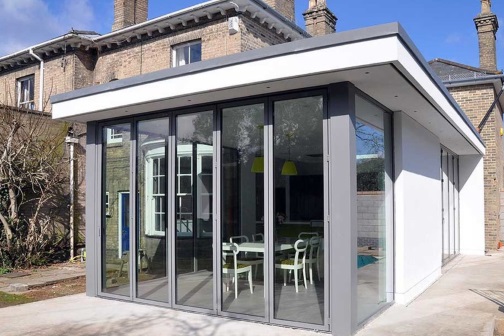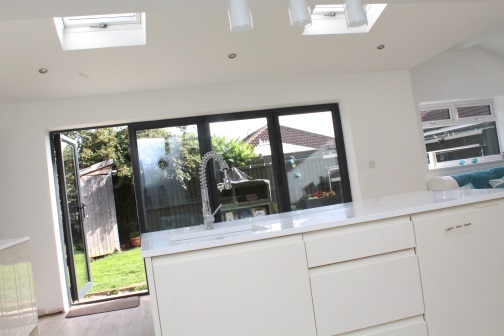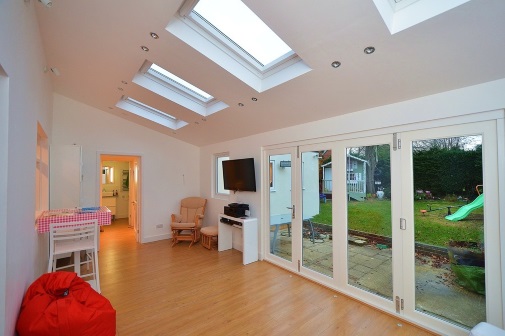 An extension or addition to your house is considered to be permitted development, not requiring an application for planning permission, subject to the following limits and conditions:
No more than half the area of land around the "original house"* would be covered by additions or other buildings.
No extension forward of the principal elevation or side elevation fronting a highway.
No extension to be higher than the highest part of the roof.
Single Storey rear extension must not extend beyond the rear wall of the original house* by more than three metres if an attached house or by four metres if a detached house.
In addition, outside Article 2(3) designated land* and Sites of Special Scientific Interest the limit is increased to 6m if an attached house and 8m if a detached house until 30 May 2019.
These increased limits (between 3m and 6m and between 4m and 8m respectively) are subject to the prior notification of the proposal to the Local Planning Authority and the implementation of a neighbour consultation scheme. If objections are received, the proposal might not be allowed.
Maximum height of a Single Storey rear extension of four metres.
Extensions of more than one Storey must not extend beyond the rear wall of the original house* by more than three metres.
Maximum eaves height of an extension within two metres of the boundary of three metres.
Maximum eaves and ridge height of extension no higher than existing house.
Side extensions to be Single Storey with maximum height of four metres and width no more than half that of the original house.
Roof pitch of extensions higher than one Storey to match existing house.
Materials to be similar in appearance to the existing house.
No verandas, balconies or raised platforms.
Upper-floor, side-facing windows to be obscure-glazed; any opening to be 1.7m above the floor.
On designated land* no permitted development for rear extensions of more than one Storey.
On designated land no cladding of the exterior.
On designated land no side extensions.
Our detailed building regulations plans will include all the necessary detail such as structure, passage of sound, disabled access, drainage, resistance to moisture, collision, impact, heat loss, ventilation, light, emergency escape and much more. Most alterations to your home will require a building certificate from a building control body, either local authority or private building inspector. Once the design and planning has been approved you will then need a detailed set of drawings. These drawing can be used for gaining quotation and will be checked against as the building is inspected. Our specification demonstrates the new extension can and will be built in accordance with the building regulations approved documents. These building regulations drawings will then be submitted for a full plans check, amended if necessary and once approved they will be the standard that is built to and inspection against. drawings will used when the building control officer inspects the build to ensure the builder is carrying out the works correctly.
It's always important when choosing your builder to do your research. Choose someone with experience, reviews and someone you would feel comfortable working with and talking to about your concerns. Make sure you clear with your timescale, expectations and specific finishes.
When a builder provides you with a quote it should be easy to read and have reference to our detailed approved building regulations drawings. Ask who will be doing the work, will they be sub-contracting and who is responsible. Make sure you know when you need to pay check there payment structure and be comfortable with it. Don't always go with the references they give you, its not hard to find out where else they may have been working.
On our drawings we try to add as much construction details as possible, but some assumptions have to be made and certain area's investigated before moving forward. We will offer help throughout for both you and the builder and we will come to site if help is required.